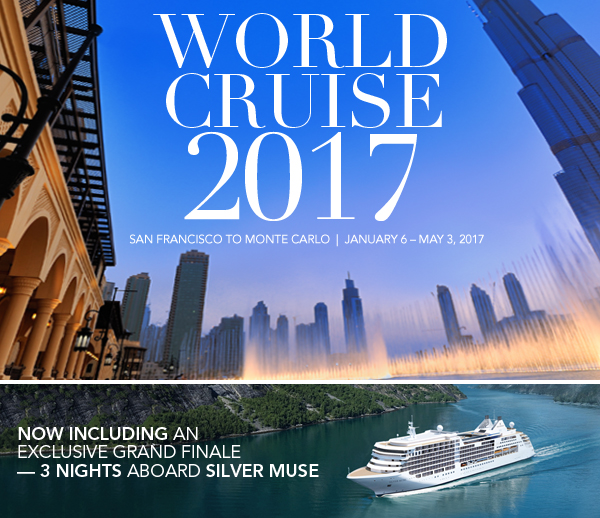 The heavenly islands of the South Pacific, renowned vineyards in New Zealand and Australia, seven of the ten tallest skyscrapers in the world â?? we'll show you the iconic landmarks of a changing world on this magnificent voyage.
ANCIENT WONDERS. MODERN MARVELS.
By journey's end, Silver Whisper will have sailed to the ancient wonders and modern marvels of 62 ports in 25 countries. But numbers tell only part of the story. Here are just some of the reasons we feel World Cruise 2017 is so outstanding:
More Time Ashore â?? A record 21 overnight and late-night departures â?? more time to delve deeper into key destinations.
World Cruise Events and Silversea Experiences â?? From Xi'an with its Terracotta warriors to a game drive at the once private reserve of a royal sheik, we've included a host of cultural experiences. As always, Silversea's worldwide connections and expert staff open doors to unique events that transform the ordinary into memories your clients may well treasure forever.
NOW INCLUDING 3 NIGHTS ABOARD SILVER MUSE | May 3 â?? 6, 2017 | NICE to ROME
Can you imagine a grander finale for your world voyage â?? a complimentary 3-night sailing aboard Silversea's divine new boutique ship during her Venetian Society inaugural voyage. You will join key Silversea executives and be among the first special guests to experience her exciting innovations, exquisite décor and sumptuous and handcrafted suites. They may sample all eight restaurants, reimagined dining venues that will shape their own delectable journey. Relax in an expansive choice of open-air spaces that flow seamlessly from the indoors to embrace the fresh air. Sail from Nice to Rome, calling on Livorno (Florence/Tuscany) and Portofino along the way. Transfers, flights home, luggage â?¦ we'll take care of all the details for a stressâ??free experience â?? along with the exciting ambiance and convivial camaraderie of a brand new ship. Better yet, why not continue on to Istanbul for the entire 13-day voyage. Full World Cruise 2017 guests have priority booking before sales open to the general public.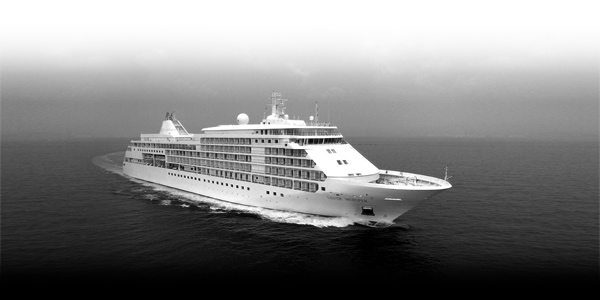 Silversea Fare Guarantee Programme: Book early when the best inventory is available and get the privilege of being able to select your desired suite. You will also be able to benefit from any future reductions in the Silver Privilege fares for your voyage, upon request.

Terms & Conditions: All Silver Privilege Fares shown are cruise-only, in US dollars, per guest, based on double-occupancy in a Vista Suite. Fares are capacity controlled and subject to change at any time without notice. Availability of all suite categories cannot be guaranteed. Fares for single guests are available upon request. Additional restrictions may apply. All fares, savings, offers, itineraries and programmes are subject to change without notice. Voyage highlights, excursions and Enrichment Programmes shown are subject to change and/or cancellation without prior notice. All information herein is accurate and in effect at time of printing. Silversea reserves the right to correct any errors or omissions. Visit Silversea.com for complete Terms and Conditions. Ships' registry: Bahamas.