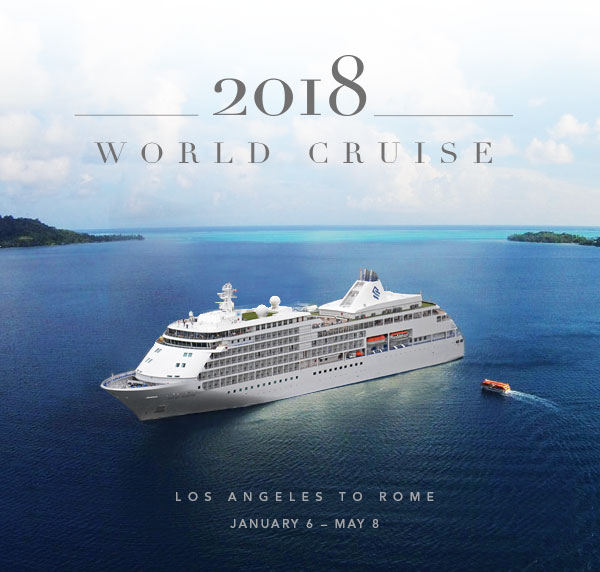 Dear Traveller,
We are delighted to present to you World Cruise 2018. Departing January 6 from Los Angeles, Silver Whisper will embark on a global circumnavigation to 60 ports in 121 days one that includes virtually every highlight recommended by our veteran world cruise travellers:
4 days in Hawaii â?? Oahu (Honolulu overnight), Maui and Hilo
6 days in the Society Islands â?? Tahiti, Raiatea, plus Moorea and Bora Bora overnights
10 Days in New Zealand â?? Both North and South Island
18 Days cruising Australiaâ??s East Coast â?? From Melbourne to Darwin
5 days in Vietnam â?? Overnights in Ha Long Bay and Ho Chi Minh City
Four of the Great Cities of Asia â?? Hong Kong, Bangkok, Singapore and Kuala Lumpur
121 Days departing January 6: Los Angeles to Rome
Following a westward path, Silver Whisper will sail across the Pacific to Hawaii, French Polynesia and New Zealand, including the geothermal wonders of Rotorua and fiord lands of South Island. The Great Barrier Reef and Penguin Parade, Tasmanian Devils, koalas, wombats and wallabies a breath-taking succession of Down Under wonders are all on the menu. She will weave a path through the Java Sea to heavenly islands like Bali and Lombok, Brunei and Kota Kinabalu in Borneo, and to a host of exotic islands in the Philippines. After two nights in Hong Kong and overnights in Ho Chi Minh City, Bangkok and Singapore, she'll follow the route of ancient spice traders to India, Sri Lanka and Oman on the Persian Gulf. Then continue through the Red Sea to fabled Luxor and Petra, storied islands in Greece, and along the coast of Italy to Rome.
More Overnight and Late-Night Departures
To give you more time to explore ashore, we're including 17 overnights, 13 late-night stays and even more connections to re-join the ship. World Heritage Sites like Ayer's Rock, Angkor Wat, the temples of Luang Prabang and the glorious Taj Mahal are all available on our award-winning overland adventures. And an array of under-the-radar gems also beckon. There's the Dutch colonial old town of Galle and leopards in Yala Park in Sri Lanka. You can shop for batiks in Probolinggo, find a deserted beach on Romblon Island, and snorkel in the crystal-clear lakes of Coron and the languid waters of Pulau Weh. A fascinating collection of exotic venues await.
Exclusive Priority Suite Deposit ­ Offer Ends May 31, 2016
It is our pleasure to offer you the opportunity to reserve a suite for our 2018 World Cruise.
Only an experienced traveller understands how enriching an epic voyage like this can be the enduring bonds with fellow guests, the delight of witnessing so many places on your bucket list, or of returning to your favourite destinations for a more immersive experience. To reserve your suite, please contact Silversea or your travel professional. We look forward to welcoming you back aboard.
Best Regards,



Massimo De Caro
Global Head of Marketing
Terms & Conditions: To confirm a specific suite, a deposit of $3,000 USD per person is required for Vista, Terrace and Veranda suites; $5,000 USD per person for Medallion suites and above. The balance of the 25% deposit amount will be required when reservations open to the general public. Pre-reservation deposits are fully refundable up until that time. Once full deposit is made, Silverseaâ??s standard terms and conditions apply. Additional restrictions apply. All information here is accurate and in effect at the time of publication. Silversea reserves the right to correct errors and omissions and to cancel any offered product or service in the event of such error or omission. Shipâ??s registry: Bahamas